CARLA CARUSO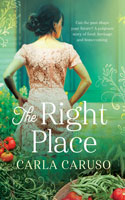 The Right Place (2018)
Having inherited her nonna's homestead in South Australia, Nella heads there to sort through her belongings and consider selling the property to fund her fashion dreams. Adrian, the twin of the guy she used to date, still lives next door and runs a market garden. He certainly won't be happy about her selling up. As Nella learns to cook using her nonna's cookbook and helps bring in new business for Adrian, readers are also taken back to the 1950s when her nonna, a newly arrived immigrant from Italy, is putting down roots in her new country.
With recipes scattered throughout and details to delight avid foodies, this pleasant story also pays tribute to family heritage and belonging.

---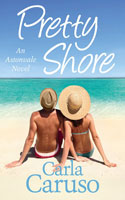 Pretty Shore (2014)
In this sequel to A Pretty Mess, Celeste Pretty can't wait for her holiday with her hunky boyfriend Lenny Muscat in the small beach town of Robe. However, Celeste's holiday doesn't officially start until she has finished her latest assignment, organising the house of designer Sabine, one of the Robe locals who also happens to be the mother of supermodel Romy who died recently.
While Celeste's assistant, Flip, is unexpectedly distracted by bad boy Blaise, who is rumoured to have been involved in Romy's death, Celeste has her hands full not only dealing with her best friend suddenly not talking to her anymore but also the gorgeous local real estate agent, who seems to have set her sights on Lenny.
This was just as thoroughly entertaining and a fun read as A Pretty Mess. I love Carla Caruso's writing style; it's well-paced, really comfortable to read, and perfect for the chick lit genre. Celeste and Flip are two great characters and I loved the fact that the author decided to focus on both women's storylines. The novel is perfect for the summer since it is set near the beach. I definitely advise readers to first pick up A Pretty Mess because I think it makes the reading experience more fun if you know the characters' background stories. Overall, Pretty Shore is a summery, entertaining read with a good dose of fun, secrets, and intrigue. (JoH)

---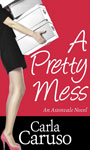 A Pretty Mess (2014)
Celeste Pretty is a professional organiser; a job which is simply perfect for a neat freak like her. She decides to start her own company called POPink and has landed her first important job, namely helping fitness guru Natalia Samphire organise her new home. Celeste wants to do anything she can to make sure she does a good job, but at the same time she's busy dealing with her cousin and new assistant Flip, and Lenny, the handsome builder who's working on Natalia's house and always seems to be around. Celeste unexpectedly discovers Natalia is being blackmailed by someone, and soon she finds herself entangled in way more than just the organising job she signed up for. This book can be described as chick lit with a entertaining touch of whodunit mystery. The plotline is interesting and it didn't take long before I was fully immersed by the story. It took some time to warm to the main protagonist Celeste, mainly because of her occasional slightly snobbish behaviour. Lenny, the hunky builder, was a great love interest and I think many female readers will develop a small crush on him. The chemistry between him and Celeste is undeniable. There are some colloquialisms used in the book which I wasn't familiar with, but from the context I could get what I needed to understand what was going on, so it definitely didn't ruin the reading experience. Overall, A Pretty Mess is a fun and entertaining chick lit and mystery mix and I am already looking forward to the next part of Carla Caruso's Astonvale series. (JoH)

---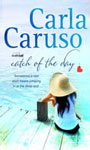 Catch of the Day (2013)
Fashion editor Winnie has been sent to a small coastal town to set up a new lifestyle magazine. That's this city chick's punishment for getting caught kissing her married boss at the Christmas party. But Winnie's certainly not staying in exile in Kingston for long - she's determined to be back on the glamorous media scene in Sydney within two months. But she soon finds herself falling for the charms of fisherman Alex and the rest of the quirky community. With a fun heroine who gets herself into lots of scraps, and a handsome hero who is hiding a secret, this is a charming romance read.