BRIGID COADY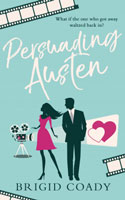 Persuading Austen (2017)
Accountant Annie Elliot is the unglamorous member of her showbiz family and has to tightly control the purse strings of her free-spending father and sister. She gets a chance to be producer on a new movie adaptation of Pride and Prejudice but then discovers her ex, Austen Wentworth, is to star as Mr Darcy.
I started reading this on a Jane Austen-related anniversary but really wish I hadn't. The book pays homage to Austen's Persuasion, in which Anne gets a second chance with her Captain Wentworth. I must admit I don't know that story that well so I possibly missed a lot of clever references. What I did not miss, however, were the multitude of characters named in honour of One Direction – there's a Harry and a Lewis and Louisa, an Olivia Styles, a Diana Tomlinson, a singer called Liam, a savvy producer called Cowell and even a lighting guy called – wait for it! – Neil Horan (and yes, he has an Irish accent). The story is page after page of Annie telling us that she's good at her job (although there's not a lot of evidence to back that up) but a total pushover when it comes to her demanding family. And of course she hasn't got over Austen either. There's an accident, some dodgy finances, a flirty cousin and not sure what else because I was too distracted scanning for more 1D references.

---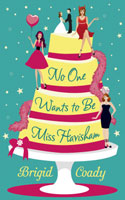 No One Wants to be Miss Havisham (2015)
Edie Dickens is a cynical, hard-nosed divorce lawyer who makes life hell for her colleagues. With a father who abandoned her and a broken relationship with the perfect guy behind her, she has formed a heart of stone and absolutely detests weddings. Bah sugar-coated almonds! But she's agreed to be maid-of-honour for her best (and only) friend Mel. This emotional Scrooge is about to be visited by the ghosts of past, present and future to help her change her ways. And scrumptious fellow lawyer and former rugby player Jack Twist is on hand to crack open those chinks in her armour. This twist on the Charles Dickens' tale works well, and is a fun, lively read.