BRIDGET MORRISSEY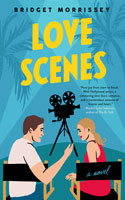 Love Scenes (2021)
Sloane comes from acting royalty and the writers of her popular TV series have just killed off her character. At a loose end, she is roped in to assist her family's movie production set in the 1940s.
Among her duties are running lines with her former co-star, Joseph, who made her life hell on the set of another movie. When the leading lady is fired, Sloane steps into the role and finds romance blooming both on and off set.
This book not only narrates the hate-to-love relationship between Sloane and Joe, it also focuses on the dynamics of a family all involved in the biz – from Sloane's siblings in first-time director Tyler and soundtrack composer Powell, to her producer-slash-actress mother and famous father.
While the behind-the-scenes drama started off well, the plot became quite boring and flat towards the end.

---