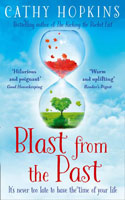 It's never too late to have the time of your life in Blast From the Past, by Cathy Hopkins. The synopsis says: "On a trip of a lifetime to India, Bea is given an unexpected fiftieth birthday present - an hour with a celebrated clairvoyant. Unlucky in love, Bea learns that her true soulmate is still out there - and that he's someone she knew in a past life.
Returning home, Bea revisits the men in her life and cant resist looking up a few old lovers - the Good, the Bad and the... well, the others. As Bea connects with the ones that got away, she suspects that her little black book has remained shut for a reason. But one man out there has her in his sights.
They say love is blind and maybe Bea just needs an eye test..." Blast From the Past is out in February 2019.
TEXT