BETH MILLER
The Woman Who Came Back to Life (2022)
Hairdresser Pearl lives a routine and contented life with her partner in a French cottage surrounded by woods. When she gets a call from her brother to say their estranged father Francis is dying in England, she is thrust back into the drama of the family that she sought to escape.
Her father has left her a special bequest which may just allow her to make peace with her past and forge a new future.
Meanwhile Carrie needs to fulfil her mother's dying wish and attend Francis' funeral even though she has never met him.
This was an endearing, poignant tale as Pearl goes on a journey to learn why her father abandoned her and realises the importance of reconnecting with family.

---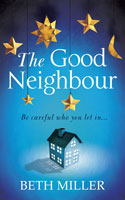 The Good Neighbour (2015)
Minette is glad to see the back of her old neighbours so when Cath and her disabled eight-year-old son Davey and four-year-old daughter Lola move in, Minette thinks she may have finally hit lucky on the neighbour front. For her part, Cath welcomes the peace and anonymity of her new life but Davey misses his dad. Despite becoming friends and confidantes, Minette soon learns that there's something not quite right next door.
Very much in the recent vein of women's psychological fiction, Beth Miller's novel is gripping and intense. The focus on two female friends and neighbours is a great fit for the genre and Miller weaves an unforgettable story. Although she takes readers into the minds of Minette and Cath, it is Davey that really connects, yet all of her characters are intriguing.
The revelation at the heart of the story is unexpected and troubling and touches on a really unsettling matter that Miller does well to bring to light even if the ending – fittingly so – leaves as many questions as answers. (JC)