BETH KENDRICK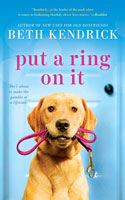 Put A Ring on It (2015)
Brighton Smith approaches her personal life exactly like she does her professional life. As an actuary, Brighton is known for her discipline and avoidance of risk. Her fiance, Colin, is a safe risk. But after an argument with him, Brighton heads to see an old friend at the Delaware beach. Brighton is ready to relax for the weekend and quickly make amends with her fiance so her life can go back to being predictable. When Brighton receives a phone call from Colin, she is ready to accept his apology. The last thing she expects to hear is her fiance confessing that he has ran off and married someone else. Rational Brighton suddenly disappears and that night at a bar, she meets Jake Sorensen. Jake is notorious in the small beach town for being gorgeous, rich and having every woman within fifty miles drop at his feet. At midnight Brighton kisses Jake and by dawn she is exchanging wedding vows at a Las Vegas chapel. Brighton gives herself a screw-up summer - she's allowed to go crazy with her hot new husband, with the realisation that at the end of the summer she will get her marriage annulled and go back to being boring and risk adverse. Brighton has the best intentions to stay on track with her plans but sometimes fate intervenes. This was a fun story with wonderful characters that you can't help rooting for. Fans of the author will love to get updates on their favourite characters from the Black Dog Bay beach town. (AO)

---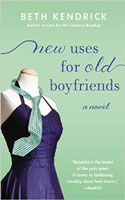 New Uses for Old Boyfriends (2015)
Lila Alders made sure she married into money. She was accustomed to the finer things in life and enjoyed the facade of having a perfect life. When her husband leaves her, her image explodes and she is forced to move back home to Black Dog Bay, the Delaware beach town she grew up in. Lila quickly discovers that the family fortune is gone and her mother, a former model, is living in denial. Her mother's closets are full of vintage high-end labels and Lila quickly sees a way to reinvent herself and make some money. Lila and her mother open a vintage clothing boutique. As Lila makes her business mark in her hometown, she is thrown together with her ex-boyfriend, Ben, and Malcolm, the man she didn't get a second glance to as a teenager. This novel is a fun quick read about second chances. Fashion lovers will delight with all the designer label references. Fans of Kendrick's earlier novel, Cure for the Common Breakup, will be happy to see their favourite characters make an appearance in this book. (AO)

---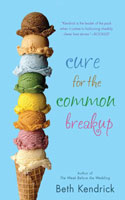 Cure For The Common Breakup (2014)
Summer Benson is a flight attendant dating a handsome and charming pilot. Summer's rules have always involved not being with one man for too long and not putting down any permanent roots. Immediately after takeoff, her co-worker announces that Summer's boyfriend has a diamond ring and is going to propose to Summer in Paris. Instead of being overjoyed, she finds herself wanting to grab the nearest oxygen mask. Rationalising the idea of being someone's wife is occupying Summer's mind until a passenger screams "fire" and Summer sees her life flash before her eyes. The plane crashes and Summer wakes up in a hospital with her handsome pilot boyfriend at her side. Instead of a romantic proposal, he dumps her. After discharging herself from the hospital, Summer ends up in a sleepy Delaware beach town. After a life of travelling, she finds herself falling in love with the small town. Its preppy mayor Dutch Jansen is definitely not Summer's type. She knows not to get involved with him but her heart keeps drawing her further into his world. Summer's impact on the small town is immediate and she quickly becomes one of the locals. But just as she gets close to putting down permanent roots, Summer finds herself with an impossible decision. While the premise of someone checking themselves out of a hospital after surviving a plane crash with major injuries was completely unrealistic, the novel is a fun light read with likeable characters. (AO)

---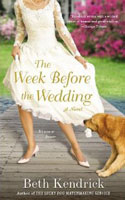 The Week Before the Wedding (2013)
Emily has the life she has always dreamed of. She has a successful career and she is about to marry Grant, a handsome and loving surgeon, in a beautiful resort in Vermont. All she has left to do is survive the week before the wedding. Despite her mother driving her crazy, everything is going well until an uninvited guest shows up. Ryan is Emily's ex-husband. He symbolised her crazy, unstable past when she was a wild child. Ryan is now a successful Hollywood film producer who is scouting a film location in Vermont. Emily tries hard to avoid Ryan and the memories of her past life, however, with Grant busy with work, it seems that Ryan keeps appearing. The seven days before the wedding prove to be the hardest as Emily struggles to find what she truly wants in life. Beth Kendrick has once again written a fantastic story with a lovely heroine and a slew of characters that will make you laugh. I loved the surprise of waiting to see who Emily would ultimately end up with. (AO)

---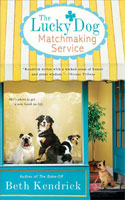 The Lucky Dog Matchmaking Service (2012)
Lara Madigan is a matchmaker. As a long-time dog lover, she pairs people with their perfect dog. Evan, Lara's fiance, is getting a bit tired of stray dogs showing up on their doorstep. After Evan flushes her dog's beloved old stuffed squirrel down the toilet, Lara retaliates by flushing her engagement ring and relationship goodbye. Suddenly homeless, Lara moves in with her high-maintenance mother. In her mom's exclusive gated community, Lara's services are in high demand. When Lara rescues a bloodhound from a busy intersection, his tags might just lead her to the man of her dreams. You don't have to be a dog lover to love this story. (AO)

---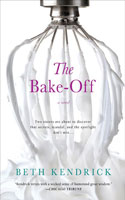 The Bake-Off (2011)
Amy and Linnie are estranged sisters. Amy is a suburban mum to her two-year-old twins. Linnie, a former child prodigy, is now a leopard-print-bustier-wearing blackjack dealer in Vegas. Grammy Syl is determined to get her two granddaughters back together. So she concocts a plan and enters Amy and Linnie into a national duet dessert baking contest. The grand prize of $100,000 keeps both sisters motivated. Armed with their grandmother's recipe for apple pie, the two sisters head into a heated competition. As the two polar-opposite sisters get themselves in crazy situations, they begin to act more like sisters and less like strangers. I absolutely loved this book. It is laugh-out-loud funny and you can't help but love both sisters. Don't be surprised if you want to try out the yummy-sounding recipes the author includes in the beginning and end of the book. (AO)

---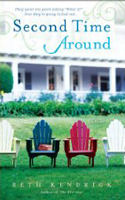 Second Time Around (2010)
Arden, Jamie, Brooke, Cait and Anna were all English majors in college. Every year the girls got together for a reunion and talked about how they wished they could change their career paths. When Arden passes away, she leaves $1 million to the four remaining friends to live out their dream careers. The friends reunite in their old college town and attempt to restart their lives. Jamie becomes an event planner and finds herself planning a wedding for an old flame. Brooke buys a bed and breakfast and quickly realises that she has bought a money pit. Cait decides to become a romance novelist and ends up falling for her former English professor. Anna has been struggling with fertility issues with her husband. When her husband announces that he needs a break from their marriage, she decides to use her $250,000 to become a pastry chef. This is a fantastic novel about lasting friendships and second chances. (AO)

---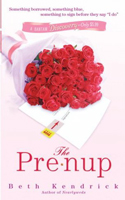 The Pre-nup (2008)
Ellie's marriage to Michael suddenly crumbles when she discovers an incriminating text on his mobile phone. He then plays hardball in the divorce proceedings in an attempt to protect his assets. Jen married Eric even though she wasn't in love with him. He helped bankroll her healthy soda business but now he's wanting out. Lawyer Mara is getting married to Josh but he seems unable to forgive her one-night stand and adds a cheating clause to their pre-nup. Telling him to have a fling on his bucks weekend in Las Vegas changes the game for all of them. If you like reading about love, betrayal and female solidarity, then sign up for this one.

---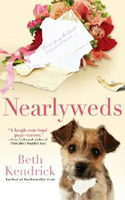 Nearlyweds (2006)
Three newlywed couples each discover that the minister who married them died before signing their marriage certificates and they are not legally married. Erin gave up her prestigious job as a paediatrician in Boston to move with her husband David out to the Berkshires in order to be closer to his mother. Erin's mother-in-law is determined to break up the marriage and Erin quickly realises that because of her husband's spineless personality, her mother-in-law will win the battle. Casey's husband Nick expressed doubts on the day of the wedding and when he realises that their marriage is not legal he is no rush to return to the courthouse and legalise it. Stella married a man twice her age and was quickly branded as a gold-digger. Her husband Mark tells her during their honeymoon that he had a vasectomy years ago and never wants to have more children. Stella loves Mark but she doesn't know if she could ever be happy without children. These three women form a close friendship as they debate whether they really want to remarry their husbands. This is a very funny book that tackles the question of if you had the choice, would you do it all over again. (AO)

---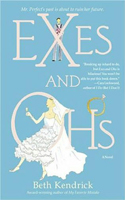 Exes and Ohs (2005)
Child psychologist Gwen Traynor was dumped by her fiance the night before her wedding. She is weary of all men, however, when she meets Alex Coughlin she knows he might be her ideal man. Leo, Gwen's newest patient, is the young son of flaky soap opera actress Harmony St James. Gwen quickly realises that Harmony is Alex's infamous ex-girlfriend. Gwen suddenly finds herself caught in a web of lies and confusion as Harmony is determined to get back with Alex and Gwen's ex- fiance confesses he still loves her. This is an entertaining and funny story. (AO)

---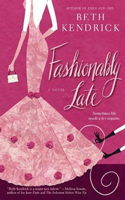 Fashionably Late (2005)
Becca has a passion for fashion but her design career hasn't really taken off and she works in a boutique that won't even carry her creations. Even her sister Claire blows off the wedding gown she designed for the big day. When her predictable boyfriend Kevin lands a wedding proposal on her, she says yes in a daze. But when he goes ahead without her and buys a plot of land and picks out the house design, she breaks it off with him and heads to LA for her last-chance shot at fashion and fortune.

---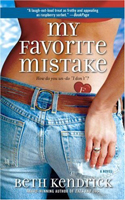 My Favorite Mistake (2004)
Faith left her small town in Minnesota years ago after her first love proposed and she turned him down. She is now a culinary writer travelling around Europe. Faith is forced to return to Minnesota thanks to her younger sister Skye's complicated love life and poor business decisions. When Faith returns home, she finds that her life savings are tied up in a bar that is close to bankruptcy and one of her partners is her ex-boyfriend Flynn, the man who still blames her for breaking his heart. It is immediately obvious that the sparks still remain between the pair and that they never stopped loving each other. Faith tries to confront her commitment phobia, however, Flynn can't seem to forget the hurt she caused him. This is a charming and funny book about family and first loves. (AO)