BETH HARBISON
Confessions of the Other Sister (2022)
Frances lives in LA, working as a private chef while struggling to make it as an actress. Her younger sister, Crosby, lives in New York and her debut novel was a best seller. But she's burnt through all her cash, so when she gets the offer to ghostwrite the memoir of a pop singer, she can't turn it down. So now Crosby is headed for LA too.
The sisters – whose father sang a one-hit wonder in the 1970s – have never gotten along, especially since an episode back in high school when a drunk Crosby was seen stumbling off with Frances' boyfriend at a party. So is LA big enough for the two of them?
This story about healing a strained sibling relationship is peppered with celebrities and not-quite-midlife crisis stuff but overall it didn't seem particularly authentic. The publicity that spun this as the author's "best book" and "strongest novel yet" was off the mark.

---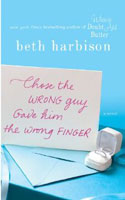 Chose the Wrong Guy, Gave Him the Wrong Finger (2013)
Quinn thought she had found happily ever after with Burke, her high school sweetheart. However, things fell apart for Quinn and Burke - on their wedding day no less - leaving Quinn in a decade-long funk. While everyone else is moving on with life, Quinn is stuck in a rut.
When Burke and his brother, Frank, return to town for a wedding, Quinn is forced to face her past head on whether she wants to or not. While it's obvious that Quinn once loved Burke, it's hard to see what she really saw in him. He's so self-indulgent, unlike Frank. When faced with a second chance, will Quinn choose true love or will she run away once again?
This is another stellar read from Harbison, who always intertwines a lesson into her story. It's funny in parts but mainly it's a story of redemption and moving on when you feel as though you can't. (AS)

---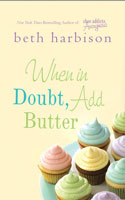 When In Doubt, Add Butter (2012)
Gemma is 37, single and a private chef. She seems like she has everything she wants, with a busy schedule making people happy with her food. However, fate has other things in mind.
With a client list that holds everyone from a gay man who believes in her talents to a woman who is hell-bent on making her life a living hell, there's no room for dating or marriage or, even children.
One quick hook-up later and Gemma's life is turned upside-down. She really enjoyed the company of this man, yet she doesn't know who he is, not even his name.
Intent on finding him, but wondering if fate has other things in mind, Gemma will soon realise what she really wants out of her life and may realise that love is a lot closer than she ever believed.
This is an excellent story with an easy-going main character and lots of charm. It is slightly predictable in parts but at the same time it unfolds well and the ending is better than expected. Definitely one to check out as Beth Harbinson is a master story-teller. (AS)

---
Always Something There to Remind Me (2011)
Erin and Nate were high school sweethearts; each other's first loves, sharing all of their hopes and dreams for the future. Until Erin does something Nate can't forgive and they are done.
Two decades later, Erin receives a marriage proposal from Rick, a wonderful man who loves her and her daughter, Camille. To Erin's surprise, the first thing that pops into her head after Rick proposes is Nate, whom she hasn't thought about in years. All of her old feelings for him, and the circumstances of their relationship, come flooding back as if it happened only yesterday.
While Rick waits for an answer to his proposal, Erin struggles to reconcile her feelings for Nate when he suddenly reappears in her life, with some very big news.
While I liked the general premise of the story, and questioning your feelings for your first love are indeed plausible if you were to meet again after 20 years, I found the teenage Erin was bordering on obsession in her love for Nate, which made it hard to believe he hadn't been on her radar since they broke up.
In addition, while seeing him again transports her back to her teenage years, it also causes her to react with the same teenage behaviour, rather than the behaviour of a mature adult, which I didn't particularly care for. I did prefer the end of the book to the beginning, which was filled with more humour and the anticipation of what the outcome of Erin's story would be. (LEK)

---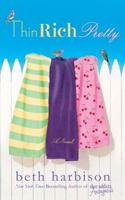 Thin, Rich, Pretty (2010)
Twenty years ago, there were three girls who all shared the same cabin at camp. There was Holly, the chubby one; Nicola, a tall, skinny but shy girl; and their arch-enemy Lexi Henderson. Sick of Lexi's putdowns and taunts, Nicola and Holly played a prank on her which would last for decades.
Now 20 years later, Holly is co-owner of an art gallery and is pre-engaged - the ultimatum is she has to lose 20 pounds first. Nicola achieved her dream of becoming a Hollywood actress but has fallen into the ranks of plastic surgery converts and doesn't know when to stop. Lexie has gone from rich, little spoilt girl to a flat-broke grown-up and is on the hunt for extra cash.
This is the story of three girls and their journey to get the one thing that they think guarantees them happiness. But they soon discover that it's not what's on the outside or in your bank account but who you are inside that brings true happiness. (PP)

---
Thin, Rich, Pretty - Second Opinion
---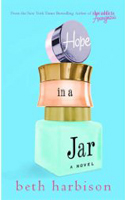 Hope in a Jar (2009)
Allie and Olivia were inseparable all through their school years, with Allie doing makeovers on Olivia almost every night. Then one nasty rumour ruined everything. Olivia and her mother moved away without as much as a goodbye or a chance to let Allie explain that she hadn't been the one to spread it.
Since that day in 12th grade, Allie and Olivia have not spoken or kept up with each other's lives. Now, on the eve of their 20-year high school reunion, the women have to decide if they want to face their past.
With the help of mutual best friend, Noah, Allie and Olivia are coaxed into going to the reunion and even more surprising than seeing each other is the big bombshell that Noah drops on them: He's dating Vickie Freedman, their worst enemy and a bonafied bitch. Neither of them can figure out why sweet, sensible Noah would date someone as vile as Vickie, especially Allie, who is secretly in love with Noah.
When Noah announces that he's marrying Vickie, Allie - not knowing who else to turn to - calls Olivia. Allie will take any help she can get to stop Noah from this seemingly rash and life-changing (not to mention life-ruining) decision. Allie and Olivia are brought together once again, just like it was 20 years ago. The one question that remains unanswered is if they will let their past get in the way of their future.
The story deepens with flashbacks to important points in Allie and Olivia's high school days. The flashbacks are so genuinely written that they only make the story more wonderful. Allie and Olivia are two girls who both need one thing in their life - hope - which they find in their friendship with each other. (AS)

---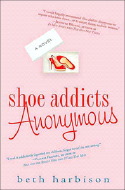 Shoe Addicts Anonymous (2007)
Helene discovers in a shoe shop that her politician husband has cancelled her credit cards; waitress Lorna is deep in debt but can't resist checking out eBay bargains on designer shoes; Sandra is agoraphobic so pays her shoe bills by working as a sex-phone operator; and Joss is an overworked nanny who is just desperate to get out of the house. These four women come together each Tuesday night for a meeting of Shoe Addicts Anonymous - to swap shoes and life stories.