BECKY HUNTER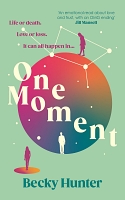 One Moment (2023)
Aspiring fashion designer Scarlett dies when she goes to help a cyclist who ran a red light while distracted by his phone.
Her flatmate Evie is devastated to lose her best friend, just short of their thirtieth birthdays. She is already struggling with her recent diagnosis of multiple sclerosis, with the stiff movements and shakes halting her passion of playing the violin.
Evie should hate Nate, the cyclist at the centre of the incident. But the travel journalist keeps popping up, wanting to help her through her grief and see beyond her limitations.
The narration is shared by Evie and Scarlett, who is stuck in a limbo overseeing past and current events. This beautiful life-affirming story is about living life to the full and cherishing the people around you because you never know when it might end.