B.A. PARIS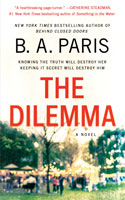 The Dilemma (2019)
Livia has been planning her 40th birthday for years, to make up for the dream wedding she never had. Only hitch is her daughter Marnie won't be there as she's studying in Hong Kong. What she doesn't know is her husband, Adam, has arranged for Marnie to come back and surprise her.
But on the day of the party Adam gets some terrible news and is faced with a dilemma: does he tell his wife and ruin her party? And what secret is Livia keeping from her husband?
This story takes place over the course of a single day, with a few flashbacks. I picked it up without knowing anything about it and the family drama soon had me gripped, needing to know how it all resolved. While you might wonder about why some characters acted the way they did, the story will break your heart.

---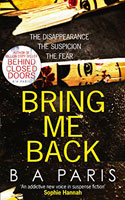 Bring Me Back - B.A. Paris (2018)
Finn and Kayla are a happy couple. Until, one night, on their way back from skiing in France, Finn stops the car in an almost deserted parking lot to use the toilet and when he returns, Layla has disappeared. The police thinks he killed her but unable to find a body or any proof they let him go.
Twelve years later, Finn leads a normal life in a village just outside of London with his soon-to-be wife Ellen, who happens to be Layla's older sister. Their normal life is disrupted when they start receiving small Russians dolls and Finn gets emails from someone who knows what happened the night that Layla disappeared.
I've become a fan of B. A. Paris this year, first reading The Breakdown and then her debut novel Behind Closed Doors and I quickly fell in love with her writing and her complex and well-crafted characters, so I was very eager to read this latest novel. I wasn't disappointed because I think it's her best so far.
The story is compelling, suspenseful, and full of surprises and twists and turns. I love how the author gets into the characters' minds and develops them throughout the novel. An unputdownable novel that will make you forget to sleep. (NP)

---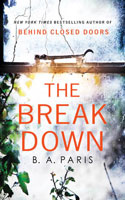 The Breakdown – B. A. Paris (2017)
After a night celebrating the end of the school term, Cass takes a shortcut through the woods to get home. The road is dark and a storm is hitting hard when she sees a car laying on the side of the road. Inside there is a woman but she doesn't seem to be in need of help and afraid it may be a trap like you see in horror movies, Cass keeps driving.
The next morning the news announces that a woman was found murdered the night before on the same road. Consumed by guilt, Cass starts forgetting things like presents to buy or friends who she invited over. Does she have dementia as her mother did?
And is the killer behind the silent calls that she receives every day? As her husband and best friend start to doubt her sanity, Cass becomes more depressed and paranoid.
Not only a story of murder and jealousy, but also of a woman trying to come to term with the fact that she may become like her mother. A compelling and sinister page-turner with so many twists and turns that at the end I was literally on the edge of my seat. (NP)

---