ASHLEY POSTON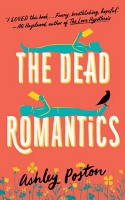 The Dead Romantics (2022)
Florence grew up in her family-run funeral parlour but is now living in New York and working as a ghostwriter for bestselling romance author Ann Nichols. But she can no longer write happy-ever-afters after breaking up with boyfriend Lee.
So heading in to meet her new editor, Ben, Florence is hoping to get an extension on her deadline. But soon the manuscript is the least of her worries when her dad has a heart attack and she has to head back to her hometown – the place she left because she was made fun of because she could see and talk to ghosts.
And then Ben turns up too – a bit dazed, confused and apparently dead. Surely a romance between them won't have a ghost of a chance?!
With an endearing and caring main character, this book was a pure delight which portrays the necessity to celebrate both life and death.

---