ANNIE CATHRYN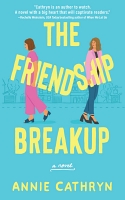 The Friendship Breakup (2023)
Mother-of-one Fallon has started up a chocolate business and dreams of opening a shop. But surely that's not the reason her best friend, Beatrice, has started to exclude her from the catch-ups with the other soccer mums.
The only one still talking to her is Elenore, who is also on the outer after she was caught in a compromising position with the school principal. So Fallon signs up to a friendship app to expand her social circle.
This was an entertaining read about the fickleness of female friendship and it adeptly illustrated the pain and hurt surrounding the breakdown of a close connection.
Fallon's past explained why rejection was such a tender spot but for me as a reader, her isolation from the group didn't have the same impact considering she already had several supportive friends she conversed with regularly.
The misunderstanding with Beatrice was also far too obvious when it occurred. But overall, this is a story that many women will relate to.