ANNETTE CHRISTIE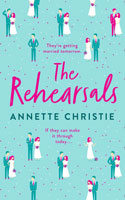 The Rehearsals (2021)
Tomorrow is Megan and Tom's wedding but first they have to get through their rehearsal dinner. After a major argument, the couple wake up the next morning to find themselves caught up in groundhog day – and have to live out the day before their wedding all over again.
That means dealing with Megan's irresponsible mother crashing into her room to do some last-minute dress shopping, Tom waking up on a ferry on his way to playing golf with his authoritative father and competitive brother, and the shock reveal of two big secrets. As the day repeats again and again, the couple reassess their commitment to one another.
This was one of my most anticipated reads for 2021 and while it didn't end up being one of my top books for the year, it was still an entertaining debut. It left you guessing which way the bride and groom would go – continue with the wedding or call it quits.

---