ANNA WHITEHOUSE
The penname of Anna Whitehouse and Matt Farquharson
---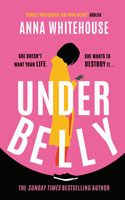 Underbelly (2021)
Lo is an Instagram influencer, writing about breastfeeding, miscarriage and other aspects of parenting. Dylan is a much-younger mother whose son Noah befriends Lo's daughter Scout at kindy.
Dylan hardly makes ends meet working as a telemarketer but her passion is writing. However, an abusive ex means she would never want to be in the spotlight like Lo.
Written by the duo behind online platform Mother Pukka, this topic is obviously one close to their hearts and they understand the thrills and spills of maintaining a big online presence.
I found it a well-written and thought-provoking read and connected easily to the two main characters as they forged an uneasy alliance over playdates.

---