ANNA BELL
Anna Bell is a former contributor for Chicklit Club and also writes under the name Annabel Scott.
---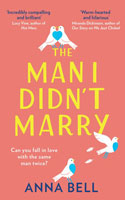 The Man I Didn't Marry (2021)
Ellie had a crush on her best friend's brother Max for ages. Then one day her dreams came true when they started dating, eventually marrying and she is now pregnant with their second child.
But then Max loses his memory, possibly caused by some mystery traumatic event, and can't remember the past five years. He only remembers her as his sister's nerdy friend. So Ellie has to get Max to fall in love with her all over again.
I really enjoyed this different take on relighting the spark of attraction in a marriage. Having Max only know Ellie in a very platonic way was a masterstroke from the author, as it added to the emotionally charged situation.

---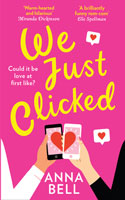 We Just Clicked (2020)
Izzy works in an office but dreams of making enough money as an influencer to give up her job. So colleague and ambitious fellow Instagrammer Luke suggests they pair up in a fake romance to boost their followers and chance of scoring brand deals.
Meanwhile Izzy bumps into Aidan, the stranger who helped her on a very traumatic day. Fortunately he detests social media so as her feelings for Aidan grow, maybe her lucrative fauxmance with Luke can continue without him finding out.
This is a humorous story about the ethics of faking it until you make it on social media, tempered with touching moments around grief and moving on.

---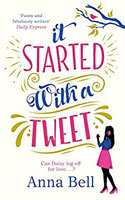 It Started With a Tweet (2017)
When a raunchy personal tweet mistakenly ends up on her company's Twitter account, Daisy is given her marching orders from her London marketing job. Her sister, Rosie, talks her into joining her for a digital detox in Cumbria, where she is renovating an isolated cottage. Can Daisy survive without her phone, social media and Tinder?
This is a funny account of what happens when a phone-addicted city girl ends up stuck in the mud - literally. With an endearing heroine and love interest, it's a really enjoyable read wrapped in a lesson about the value of disconnecting from our phones.

---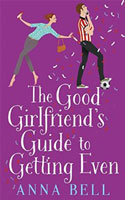 The Good Girlfriend's Guide to Getting Even (2017)
When Lexi's sports-mad boyfriend, Will, bails on her friend's wedding because of food poisoning but is then spotted at a soccer match, she decides to get mad, and then get even. Without telling Will that his ruse is up, she hatches several sneaky sabotage missions to ensure he misses future sporting events. The aspiring writer also starts blogging about her acts of revenge as a sports widow.
Bell knocks it out of the park with this cleverly plotted story. With a totally recognisable relationship at its heart, plenty of humour as well as a plot that keeps readers guessing, this is a cute and enjoyable story, albeit a wee bit slow at the end. The perfect book to lose yourself in while your man's watching a game.

---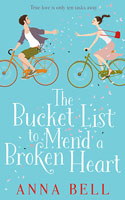 The Bucket List to Mend a Broken Heart (2016)
Abi's heartbroken after her boyfriend, Joseph, leaves her. When she finds his bucket list of things to do, she decides to complete the tasks to win him back. Trouble is they are not really the sort of things she likes doing – such as mountain bike riding, abseiling, camping out at a music festival.
But with her friend Sian egging her on and cycling enthusiast Ben along for the ride, it seems that Abi may just find her mojo again as she pieces her heart back together again.
This is certainly a cute, feel-good read about a girl pushing herself out of her comfort zone, which will no doubt encourage you to consider your own bucket list.

---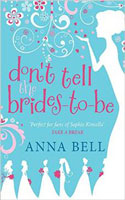 Don't Tell the Brides-To-Be (2015)
Penny Robinson has finally found the courage to take the big leap and start her own wedding planning business called Princess on a Shoestring. After the success of her blog with the same name, Penny soon finds herself with enough brides-to-be who want her help to organise their own budget weddings.
Of course this includes the occasional bridezilla and emergency moments, but Penny is so passionate about her job she is ready to deal with it all. Until a rival wedding planner named Georgina Peasbody decides there is only room for one of them and she's not going down without a dirty fight. Penny has to give it her all to keep her business going. But when another unexpected bump in the road makes things even more complicated, Penny starts to doubt whether she is really meant to be a wedding planner.
There are certain book series which I can't get enough of and if it was up to me, there would be at least 36 parts of the series to keep us involved in the characters' lives. This certainly is the case for me with Anna Bell's series. Don't Tell the Brides-To-Be is a fantastic third instalment.
Penny is a simply wonderful heroine; she's spontaneous, naive, funny, and incredibly passionate and I think many readers will be able to relate to her one way or another. Sometimes, a sequel or a third part of a series can feel a bit forced, but that is not the case with this book. The story flowed naturally and I honestly couldn't wait to read more about Penny's adventures. (JoH)

---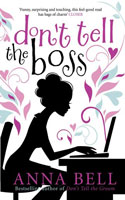 Don't Tell the Boss (2014)
After planning her own wedding to a strict budget due to her gambling debt, Penny got the wedding planning bug! Her blog, Princess-on-a-Shoestring, is getting so popular that she's now got brides-to-be asking her to be their budget wedding planner.
While taking on the task of organising a fabulous wedding for highly strung Henri on a minimal budget, she's also trying to impress new boss Giles in order to get a promotion. But Giles takes a dim view of his employees moonlighting in other jobs, so she has to ensure that her newfound popularity as a wedding guru stays a secret.
I loved Penny in the first instalment of this series, and she was equally as fun and witty in this book. She's a very likeable protagonist, and gets into some hilarious situations! I loved all the money-saving tips and tricks that she wrote about on her blog, there are some brilliant ideas there. Unfortunately I felt the plot was a little predictable, I didn't find the big twist towards the end to be very surprising, however overall I enjoyed this and look forward to the next book. (LO)

---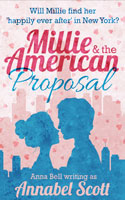 Millie and the American Proposal (2014)
This is the third book in a series, so many readers will be familiar with the charming main character. This story begins with Millie and her boyfriend, James, trying to cope with their long-distance relationship and his hectic work schedule. Their circumstances have definitely taken a toll on their relationship but they are both hopeful that things will return to normal once James moves back to London.
Unfortunately, their happiness is short-lived as James reveals he has been offered an assignment in Singapore. He incorrectly assumes that Millie will quit her job and uproot her life to follow him, but Millie cannot face the thought of being a kept woman and she ends their relationship.
When Millie is offered a position in New York City, she cannot say yes quickly enough. Some time away from her memories of James in a city she fell in love with years ago is exactly what she needs.
However, her time in NYC does not come without complications. For instance, her ex-boyfriend Rob is newly single and the spark between them is still alive and well. Millie tries to maintain a friendship with both James and Rob,but that only confuses her more, and it isn't until one of them proposes that she can admit her true feelings to herself and the man she loves.
In my opinion, this is the best book in the series to date. Annabel's writing is engaging and I found myself reading just one more chapter several times. I enjoyed catching up with Millie and her friends and seeing how their lives have changed over the course of the years and I was pleased to learn that a fourth book will be coming soon! (LB)

---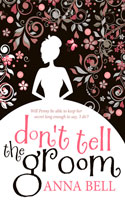 Don't Tell The Groom (2013)
Penny has been in full wedding preparation mode for ages, she's just waiting for her boyfriend Mark to decide they've moved on from step three of his six-step plan to marriage. She has all the details picked out starting with the Vera Wang dress and the Jimmy Choo shoes.
When Mark surprises Penny with his proposal, her delight turns to despair when she finds that their wedding fund is now 10,000 pounds less because of her online bingo account ... but she is not (repeat NOT) addicted - all she needs is that "one" big win. However, Penny is positive she will be able to arrange the wedding of their dreams, without Mark finding out about the depleted funds.
To add to that she's worried that marriage will change their relationship, suspects her best friend is dumping her for a new friend, and wonders why Mark's Nanna V is suddenly giving her the cold shoulder. Just like the reality show, Penny's going to try to pull off the perfect (and in budget) wedding, all without telling the groom - but is it possible??
Superbly written and packed with great wedding ideas, we follow Penny through each step of her wedding planning (and budgeting woes), while trying to keep her relationship, friendships, career and sanity on track. This is a real feel-good story with loads of laughs, twists, tears and miscommunications. The characters are all lovable and the story is totally addictive.
Highly recommended for everyone, whether single/engaged/married, into weddings/or not. This is the first book of Anna's that I've read - but I'll be hunting for her previous two books next. (AT)

---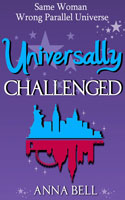 Universally Challenged (2012)
What would you do if you wake up one day to find yourself in a life that you imagined for yourself? Jess and Jessica are the same woman but in parallel universes. Jessica is the head of her department in a major banking firm (LMG Global) in London. While she went on to take up her dream job as an investment manager, she always wondered how her life would have turned out had she married her then wannabe rock star boyfriend Benjy.
Jess, her alternate reality, is an elementary school teacher. She marries Benjy in a daze of love but always wonders how her life would shape up if she had taken up the opportunity at LMG Global. Their universes (literally!!) collide when they wake up one morning stumbling into each other's lives. Now Jessica finds herself married to Benjy whereas Jess has to fix a multi-million-dollar deal. The only thread that binds their worlds together is Jake Harrington, Jessica's colleague at LMG.
The plot follows how they lurch into each other's lives, get on a crazy rollercoaster of a ride and attempt to hold their worlds from tumbling like a deck of cards. All it takes is a trapping on the wrong side of universe to actually realise what they really want. This a racy read and the two stories flow into each other seamlessly. Each one of us must have thought at some point what our lives would be like had we taken a different route and this plot just hits a nerve. (PD)

---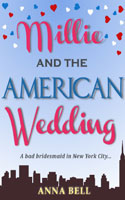 Millie and the American Wedding (2012)
One wedding, one ex-boyfriend and seven bridesmaids - it's going to be the craziest wedding ever. Millie is happily living in London when unexpectedly she gets invited to the wedding of her long-lost friend Kristen and her one-night stand Joel. Millie has no intention whatsoever of being part of this wedding until she gets a call from the bride herself asking Millie to be her seventh bridesmaid.
To attend the wedding, Millie has to fly to New York City which holds the secrets of her ugly past and forces her to face up to her ex-boyfriend Rob. As if this is not enough to make the wedding a dreadful experience, she has to put up with snotty maid-of-honour Collette who is determined to put Millie through hell.
When I got my hands on this novel I couldn't wait to read it but I felt let down by the not-so perfect editing. The charm which was created in the first few pages failed to be sustained throughout. (SS)