ANITA RANI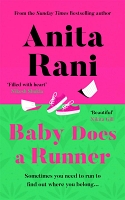 Baby Does a Runner (2023)
Baby comes from an Indian family. Her mum and aunties are wanting to marry her off, she's not getting promoted at her advertising agency and she is still grieving her dad.
When she goes home to Bradford for her birthday, she finds love letters sent to her late grandfather Ranjit, and the writer is not her grandmother but instead by a woman called Naseeb. So she decides to head to India to find out more about the woman.
This debut novel by the British radio and TV presenter takes us into a vivid world where Baby discovers more about her heritage and becomes at home in her own skin. The story also spurred me to look up information about the 1947 Partition, when a country, families and lives were torn apart.