AMY BEASHEL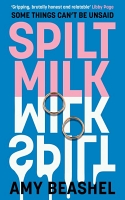 Spilt Milk (2023)
Teacher Bea gave birth to her daughter Mabel just before her mother died of multiple myeloma. Writing for her blog Tonight Will Bea Fine is one way that she deals with the challenges of becoming a mother without her mother. Now Mabel is two and a half, and Bea finds she is pregnant again, despite having a coil fitted.
Unable to contemplate having another child yet, she plans for a termination without telling husband Craig. But first she expresses her thoughts around the seemingly conflicted notion of loving your child without loving motherhood, which accidentally ends up going viral.
This was an intense, highly emotional read that some readers may find confronting. It opens an important dialogue around the expectations and inequity of parenting, and is well worth a read.