AMANDA ELLIOT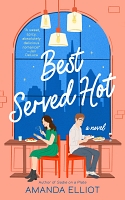 Best Served Hot (2023)
Julie is a food influencer who works as executive assistant to a wealthy businessman. She applies to become the restaurant critic for the New York Scroll newspaper but someone called Bennett Richard Macalester Wright scores her dream job. How could she ever compete with a guy like this from a privileged background with connections – he's even friends with her boss' daughter.
When Julie spots Bennett at a food festival, she sees red and sends him off on a wild goose chase to find a famous chef and a video of their bitter exchange goes viral. However, the rivals soon realise that partnering up for dual reviews will benefit them both.
I am not a foodie in any sense so was attracted to this title more for the competitive characters and the clash between social and traditional media, rather than the mouth-watering food scenes. However, the author did a fine job in dishing these up and they weren't over-done at all. If you are looking for a sweet rom-com, this may well satisfy your cravings.