ALI LOWE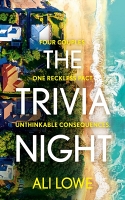 The Trivia Night (2022)
The kids have just started the new school year at Darley Heights primary and a trivia night fundraiser is on this weekend.
Real estate photographer Amanda and her family are new to the school after having to leave a private school in disgrace. She and husband Ted are on the table with her friend and event organiser Alice and her husband Pete, and two other couples, Zoe and Miles, and Lara and Luke.
That night, Amanda finds out that her nemesis from the previous school, Victoria, has also joined the Darley Heights community and Lara and Luke reveal they are swingers. These revelations lead to a wild night and major repercussions for all involved.
Joining a plethora of books about misbehaving parents and fatal consequences, this story is told through three narrators: Amanda, Alice talking to her therapist, and Zoe's emails to her sister Phoebe. It's an entertaining debut, with some surprise reveals, outrageous behaviour and malevolent machinations.

---