ALI BRADY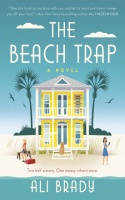 The Beach Trap (2022)
As 12 year olds, Blake and Kat became tight friends at summer camp. But after Blake realises that her new best friend's dad is also her father – the one who disappeared when her mother died - the girls never speak again.
Years later, when Kat's father dies, he leaves the two half-sisters a Florida beach house. Blake wants to sell it to pay for her beloved grandfather's care, while Kat wants to hold on to it due to fond vacation memories.
As Blake throws herself into home improvements to boost the listing price, social media influencer Kat hopes posts about her creative vision for the renovated house will win her a lucrative contract.
Came for the cute cover, stayed for the fantastic story that held plenty of surprises. While both women experience budding romances, it is the brittle relationship between the sisters that takes centre stage.

---