ALEXA MARTIN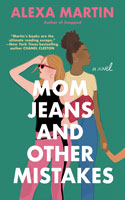 Mom Jeans and Other Mistakes (2021)
Financially strapped and single, two lifelong friends Lauren and Jude decide to move in together.
Lauren's ambitions to be a doctor were pushed aside when she fell pregnant with Adelaide, her now five-year-old daughter. Her ex, Ben, wasn't around much for their daughter's early years but has become more involved since he started dating Stephanie.
Jude is a wellness influencer – into clean eating and Pilates … and more than a few sneaky drinks. And thanks to her fraught relationship with her former reality TV star mother, she's also in therapy.
When Ben challenges for custody, Jude suggests they start a podcast on parenting called Mom Jeans and Martinis.
Told in alternating chapters from each woman's point of view, this story demonstrates the tight bond created between friends who are both dealing with toxic family situations. I found it a really engaging read about the power of gal pals, although I couldn't understand how airing your life in a podcast could possibly help with a custody case.

---