AJ CROFTS
Andrew Crofts has ghostwritten several autobiographies. His daughter Olivia Grodd appears as Steffi McBride in the book trailer.
---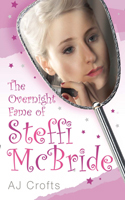 The Overnight Fame of Steffi McBride (2008)
Steffi lives on a rundown estate, with a tough Irish father, a caring Jamaican mother and her five siblings. She works as a dishwasher while her doped-up boyfriend hangs out in a squat. But Steffi's real passion in life is acting. After relating at drama class a true story about her father beating up her mother, Steffi scores a role as Nikki - "a tart with a heart" - on top-rating soap The Towers. But since her father never wanted her to audition in the first place, he cuts all ties with her. Meanwhile Steffi's rising fame takes off when she is paired with her pop idol, Luke Lewis, in a celebrity TV singing contest. But soon the never-ending media attention and the family secrets that keep getting spilled start to take their toll. With Steffi proving to be much more than just another shallow celebrity, her tale of life in the limelight will hook you in.