ADRIANA TRIGIANI
Also the author of the Big Stone Gap series and Lucia, Lucia.
---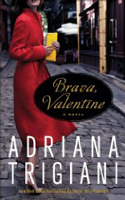 Brava, Valentine (2010)
aka Encore Valentine
Starting off in picturesque Italy for the wedding of her beloved grandmother, this novel follows on from the first novel in the Valentine series. Valentine Roncalli, a designer and shoemaker, takes over her family shoe business but she is not alone in this venture. Her grandmother has made Valentine's brother, Alfred, her partner in the business much to her dismay. Valentine and Alfred don't work too well together and she's afraid of what business decisions he will make. Distraught, she turns to sexy Gianluca, who has previously made his romantic intentions known. As much as Valentine enjoys the company of Gianluca, she can't imagine them continuing a long-distance relationship when she returns to New York and he stays behind in Tuscany. Instead of dwelling on her love life, Valentine throws herself wholeheartedly into her work. With many new business opportunities that could bring Angelini Shoes into the modern age, Valentine has her hands full. When she accepts a once-in-a-lifetime opportunity, Valentine unearths a family secret that has been buried for many years. Though this revelation shakes her family to the core, Valentine is sure that she can keep her family together while also being a successful business owner. Expect lots of drama, laughter and charm like only the Roncalli family can deliver. (AS)

---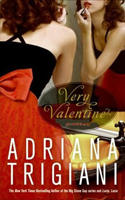 Very Valentine (2009)
Italian-American Valentine Roncalli has a passion for creating exquisite handmade shoes. She works with her grandmother Teodora in their family-run Angelini Shoe Company, based in Greenwich Village. But the small company isn't making money, and her brother Alfred is trying to sell the building from under them. While juggling a relationship with ambitious chef Roman, Valentine gets the chance to design a bridal shoe for a Bergdorf window competition. And a trip to Italy to source the best materials and find artistic inspiration may well inspire Valentine in other ways. Written in memory of the author's shoemaking grandfather and the first in a trilogy, the characters are as exquisitely drawn as you imagine the shoes.