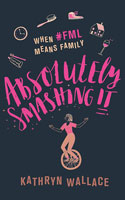 I Know, I Need to Stop Talking blogger Kathryn Wallace's debut novel, Absolutely Smashing It, is for "for anyone who has ever shared a #fml moment on Facebook".
The summary says: "Gemma is only just holding it together - she's a single parent, she's turning 40 and her seven-year-old daughter has drawn a cruelly accurate picture which locates Gemma's boobs somewhere around her knees. So when her new next-door neighbour, Becky, suggests that Gemma should start dating again, it takes a lot of self-control not to laugh in her face.
But Becky is very persuasive and before long Gemma finds herself juggling a full-time job, the increasingly insane demands of the school mums' Facebook group and the tricky etiquette of a new dating world. Not only that, but Gemma has to manage her attraction to her daughter's teacher, Tom, who has swapped his life in the City for teaching thirty six to seven year olds spelling, grammar, basic fractions - and why it's not ok to call your classmate a stinky poo-bum...
It's going to be a long year - and one in which Gemma and Becky will learn a really crucial lesson: that in the end, being a good parent is just about being good enough." Absolutely Smashing It is out in March 2019.
TEXT