WEDDING FEVER
Here comes the royal bride ... Weddings are always big business in the chick lit world. And with the wedding of Prince William and Kate Middleton just around the corner, wedding fever is definitely in the air. Here's our guide to some of the current crop of wedding-themed chick lit books. We'll keep adding to it in the lead-up to the royal nuptials ...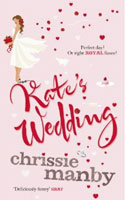 The engagement of Prince William and Kate Middleton inspired Chrissie Manby to take a new direction with her novel-in-progress called Kate's Wedding. She reveals on her website: "I was struck with a bolt of inspiration that seemed too good to waste. It happened on the day Kate Middleton and Prince William announced their engagement. I had already made several pages of wedding-related notes for my next novel, which was tentatively titled (quite by coincidence), Kate's Wedding. It was about a woman in her late thirties, getting married for the first time a whole decade later than her friend. The original idea came out of my own experience of a late engagement! Well, the news about Prince William and his Kate got me thinking about the Royal Wedding back in 1981. I remember how excited I was the day Diana married Charles. I was eight years old and enthralled by the romance of it all. Sixteen years later, as a newly-dumped twenty-something, Princess Diana's death also affected me deeply. If she couldn't make love work, what chance did the rest of us have? I decided to weave my reminiscences of those pivotal dates into the life of my character Kate. I added another bride, called Diana, because she was born on the 29th July 1981." The summary for the book says: "Thirty-nine-year-old lawyer Kate Williamson had almost given up on love when she met her fiance. Now she's planning for the wedding she never dreamed she'd have. Diana Ashcroft, born on the day of the 1981 Royal Wedding never doubted that she would find her prince. Now engaged, she's in full Bridezilla mode. Meanwhile, Melanie Harris, owner of Bride On Time, is making both their dresses, carefully spinning the aura of romance though after her own painful divorce she really thinks marriage is a joke. In the six months leading up to their April 2011 nuptials, against the backdrop of another Royal Wedding, all three women will learn much about the nature of love."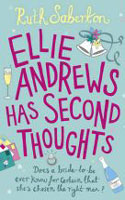 Another must-read for 2011 is Ruth Saberton's sophomore novel Ellie Andrews Has Second Thoughts about a woman getting cold feet on the eve of her wedding. The summary says: "Ellie Andrews is finally getting married. Or she will be if she drinks enough champagne to pluck up the courage for her trip down the aisle. The problem is that after months spent bickering over menus and table placements, she's never felt more distant from the man she's supposed to be spending the rest of her life with. As last-minute nerves take hold, a night of soul-searching sees Ellie reflecting on old flames in a bid to reassure herself she's making the right decision. There's Rupert - adoring but dull; Jay - the teenage crush; Marcus - sexy but toxic; and Xander - a true friend. But as the sun rises and the ceremony looms ever closer, Ellie is still unsure if she's doing the right thing. Then an unexpected encounter turns her world upside down. Should she take a chance? Or should she stick with the choices she's made? As Ellie makes her way to the church, only one question remains: who will be waiting for her at the altar?" Ellie Andrews Has Second Thoughts is out in May.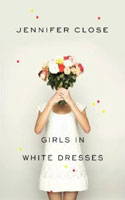 Jennifer Close's debut novel Girls in White Dresses is about three friends grappling with heartbreak and love, career change and family dramas - all while suffering through an endless round of wedding-related events. The summary says: "Isabella, Mary, and Lauren are going to be bridesmaids in Kristi's wedding. On Sunday after Sunday, at bridal shower after bridal shower, they coo over toasters, eat tiny sandwiches, and drink mimosas. They're all happy for Kristi, but they do have the ups and downs of their own lives to cope with. Isabella is working at a mailing-list company, where she's extremely successful, and wildly unhappy. Mary is in love with a man who may never love any woman as much as he loves his mother. And Lauren, a waitress at a midtown bar, finds herself drawn to a man she's pretty sure she hates. With blind dates and ski vacations, boozy lunches and family holidays, relationships lost to politics and relationships found in pet stores, Girls in White Dresses pulls us deep inside the circle of these friends, perfectly capturing the wild frustrations and soaring joys of modern life." Girls in White Dresses is out in August.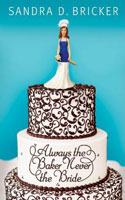 Always the Baker, Never the Bride, by Sandra D. Bricker, is centred around the strained relationship between a cake baker and a wedding venue owner. The summary says: "Thirty-six-year-old Emma Rae Travis has been baking specialty cakes and melt-in-your-mouth pastries at The Backstreet Bakery in historic Roswell, just outside of Atlanta, for the last six years. But here's the rub about her job as a baker ... Emma is diabetic. When she tastes her creations, it can only be in the most minute portions. Emma is considered an artisan for the stunning creme brulee wedding cake that won her the Passionate Palette Award last year, but she's never even had one full slice of it. When Jackson Drake hears about this local baker who has won a prestigious award for her wedding cake artistry, he tells his assistant to include her in the pastry tastings scheduled at his new wedding destination hotel the following week. And for Jackson, that particular day has started out badly with two workmen trapped in a broken elevator and a delivery of several dozen 300-thread-count bed linens in the wrong size abandoned in the lobby. But when the arrogant baker he met a week prior in Roswell stumbles into the dining room with a platter of pastries and a bucketful of orders, he knows for certain: It's going to be a really rotten day. Can these two ill-suited players master the high-wire act and make a go of their new business venture? Or will they take each other crashing downward, without a net? And will the surprise wedding at The Tanglewood be theirs?"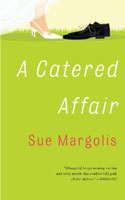 A Catered Affair, by Sue Margolis, is about a jilted bride who discovers that not marrying the wrong man can sometimes lead you to the right one. The summary says: "When Tallulah gets jilted at the altar, she gets very drunk and starts making passes at the male wedding guests. She even propositions the caterer. But in the next few weeks, reality comes crashing down around her. Her difficult mother becomes more impossible than ever. Her lesbian sister starts trying to have a baby. Nana Ida gets busy matchmaking. What Tallulah is about to discover is that happiness doesn't always come in the form of the perfect doctor - and that sometimes real love doesn't require a catered affair." A Catered Affair is out in August.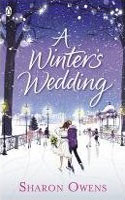 A Winter's Wedding, by Sharon Owens, is about a woman who needs to be convinced marriage to her soulmate is worth taking a chance on. The summary says: "Emily and Dylan's relationship is rock solid. Everyone says they are meant to be together, it's just a matter of when - not if - Dylan's going to pop the question. There's just one tiny fly in the ointment: Emily hates weddings - she was jilted at the altar years ago by Alex, her supposed soulmate. Still, Dylan isn't Alex. He's gorgeous and kind - and more than worth taking a chance on ... But what happens when the ghost of Emily's Christmas past threatens to ruin everything? Can Dylan convince the love of his life he's different and that their wedding day will be remembered for the right reasons? After all, with a sprinkling of snow and a touch of magic in the air, there's nothing quite like a winter's wedding to warm the soul."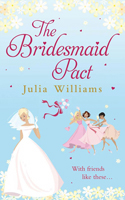 Will these friends honour and obey The Bridesmaid Pact? The summary of this Julia Williams' novel says: "Sarah, Dorrie, Beth and Caz vowed to one day be each other's bridesmaids. But life got complicated. Now they have one last chance to fulfil their promise. Dorrie is planning her ultimate Disney wedding to Darren and is determined to have her friends back together for the Big Day. But Dorrie's fairytale is not all that it seems. Beth is desperate for a baby and is starting to resent her more fertile friends. Is a mistake from her past about to destroy her future? Caz's wild streak has tested her friendships over the years. One by one she has let her friends down, not least when she commits the ultimate betrayal to Susan. Can she change her ways? Sarah is plagued by doubts that she went down the wrong path when she married Steve. Does Sarah have the strength to make a change? As Dorrie's big day dawns, all eyes are on whether the ultimate act of friendship will be honoured and obeyed."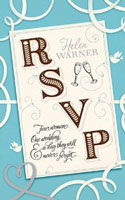 RSVP, by British TV executive Helen Warner, focuses on four women and a wedding. The summary says: "Anna's world is rocked when she receives an invitation to her ex Toby's nuptials - Toby was The One, The Love of Her Life, The One That Got Away. Will attending his Big Day finally give her the sense of closure she so desperately craves? Or will it only re-open old wounds? Clare is Anna's best friend, the person who was there for her when she and Toby split all those years ago. But little does Clare know that Toby's wedding day will also change her own life forever. Ella is a classic femme fatale. She loves men and leaves them without a backward glance. But the one person who's never fallen for her charms is Toby. As he prepares to get hitched, is it too late for a last-ditch attempt to win his heart? Finally, Rachel is the blushing bride-to-be. This should be the happiest day of her life. So how come she feels nothing but a terrible sense of foreboding?"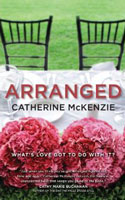 Canadian lawyer Catherine McKenzie's novel Arranged, which was released in January, is about a woman who tries a dating service with a difference. The summary says: "Anne Blythe is lucky. She's got a brand-new book contract, a great newspaper job and a steadfast best friend, and she can land just about any man she sets her sights on - and the ones that appeal are typically tall, dark and handsome. Problem is, the men she chooses never last. Shortly after yet another relationship goes down in flames, Anne comes across a card for what she believes is a dating service, and pockets it just in case. If she's so unlucky in love, maybe she could use a little assistance. Then her best friend announces she's engaged, and envy gets the better of Anne. Now's the time, she decides, to give the service a try - and she is shocked to discover that what the company specialises in are exclusive, and pricey, arranged marriages. After learning of the company's success rate, however, she overcomes her reluctance and signs on. After all, arranged marriages are the norm for millions of women around the world, and she's not done so well selecting a mate on her own. So why not use a professional service that claims it can produce the perfect match? Some time later, Anne is travelling to a Mexican resort, where in one short weekend she will meet and marry Jack, the man they have chosen for her. And against all odds, it seems to be working out, until Anne learns that Jack and the company who arranged their marriage are not what they seem at all."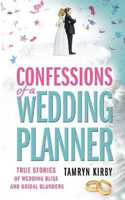 British wedding planner Tamryn Kirby has pulled together a book about what goes on behind-the-scenes of a bride's perfect day. Confessions of a Wedding Planner combines hints for the bride-to-be with stories - both heartwarming and outrageous - about wedding days Kirby's been involved in. These include the mother-in-law who turned up in her own version of the bridal gown, the celebrity who spent her big day planning a 'divorce party' and the groom who mistakenly called his new bride by his ex's name during the speeches. If you are planning a wedding, this book has all the do's and don'ts, planning guides and how to get the best out of your day.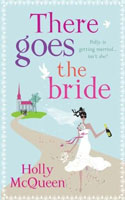 Holly McQueen is sticking with a wedding theme (after her most recent Isabel Bookbinder adventure Confetti Confidential - see below), with her upcoming novel There Goes the Bride. The summary says: "Polly Atkins is getting married. And her older sister Bella couldn't be more excited. Not only will Polly be home after five years in New York, but she's coming back to marry the most perfect man on the planet, Dev. Dresses, cake, first dance - Bella can't wait to get stuck into the arrangements. Polly's best friend, Grace, is just as excited. She can't wait to walk down the aisle behind her childhood ally, especially as the stylish Polly wouldn't dream of dressing her bridesmaids in anything but the best, which will make a welcome change to the mum-wear she's adopted since her second child was born. The only person who doesn't seem to be bursting with enthusiasm is Polly. Which is why, before things can get any more chaotic, she calls the whole thing off. And there's no way she's going to tell them why. Some secrets are best kept hidden? But she's reckoned without Grace and Bella, who are determined to get Polly and Dev back together if it's the last thing they do. After all, solving someone else's problems has got to be better than dealing with their own?" There Goes the Bride is out in May.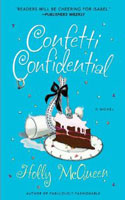 Isabel Bookbinder returns in the third instalment from Holly McQueen, Confetti Confidential. Isabel has tried bestselling author and fashion designer. Now she's thinking of taking the wedding planning industry by storm. The summary says: "Isabel Bookbinder dreams of pearly white weddings, happy brides, handsome grooms. And champagne towers that don't topple over. She dreams of the perfect wedding. But not for herself ... for her clients. It's all about bride management as far as Isabel's concerned. Even when she misplaces a couple of brides and loses her job working for wedding guru Pippa Everitt, Isabel isn't disheartened. She throws herself straight into launching Isabel Bookbinder, Individual Weddings, and with a pop starlet and a millionaire as her first clients, business is looking rosy. Unfortunately for Isabel, nothing ever goes quite according to plan."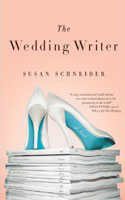 Weddings, magazines ... what's not to love about Susan Schneider's debut novel The Wedding Writer, which has been described as "The Devil Wears Prada for the bridal industry". The summary says: "Once a lowly wedding writer, Leigh 'Lucky' Quinn is thrust into power as Your Wedding magazine's new editor-in-chief on the same day that two of the magazine's major competitors fold. It's the 'Big Day' for Lucky and Your Wedding, as well as for the deposed EIC, Grace Ralston, who has been at Your Wedding's helm from day one, and had taken Lucky under her wing. While the formidable Grace faces the humiliation of sudden failure and being forcibly removed from her office (and a future that looms as emptily as an unemployed, pre-cocktail-hour afternoon), Lucky must face the confusion and disappointment of her new staff, especially Felice and Sara, the art and fashion directors left over from Grace's regime. In the wake of Lucky's ascension, for better or for worse, each woman confronts her past and deals with her hectic present." Schneider is a New York bridal magazine editor. The Wedding Writer is out in June.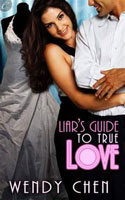 Wendy Chen's Liar's Guide to True Love is about a New York wedding planner caught in a romantic web of her own making. The summary says: "Cassandra Hanley is in the business of making other people's dreams come true. A wedding planner in New York City, she'll make certain her brides have their perfect day by sweeping any conflicts behind the scenes. Except, she doesn't have the same resolution skills when it comes to her love life. It's not that she has any problem meeting men - in her line of work she is always meeting all kinds of people. But it's her little secret that keeps getting in the way of her own I do's. Her curse is that whenever she meets a romantic suitor, she suddenly spews out a random lie - like telling her potential love interest that she works in advertising. Running to his lobby every morning to meet him for coffee to keep the ruse going is both exciting and exhausting her. And when her ex has come back to town to win her back, there's an undeniable attraction between them that she can't ignore."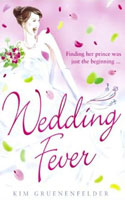 In Los Angeles author Kim Gruenenfelder's latest book, Wedding Fever (aka There's Cake in My Future), three best friends discover that changing the future isn't exactly a cakewalk. The summary says: "After listening to her closest friends' latest travails in love, parenting and careers, superstitious bride-to-be Nicole (Nic) believes she has the perfect recipe for everyone's happiness: a bridal shower 'cake pull' in which each beribboned silver charm planted in her cake will bring its recipient the magical assistance she needs to change her destiny. Melissa still ringless after dating the same man for six years, deserves the engagement ring charm. The red hot chilli pepper would be perfect for Seema, who is in love with her best male friend Scott, but can't seem to make their relationship more than platonic. And recently laid off journalist Nic wants the shovel, which symbolises hard work and fulfillment, to help her get her career back on track. Nic does everything she can to control who gets which silver keepsake - as well as the future it represents. But when the charmed cake is mysteriously shifted from the place settings Nic arranged around it, no one gets the charm she chose for them. And when the other party guests' fortunes begin coming true, Mel, Seema, and Nic can't help but wonder.... Is the cake trying to tell them something?"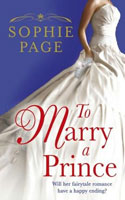 Sophie Page's novel To Marry a Prince is about an ordinary girl who falls in love with the heir to the throne. Can an everyday girl live in a fairytale world? The summary says: "When Bella falls for a gorgeous man at a party, she's furious with herself when she realises that she forgot to get his number. Or find out anything about him at all. Her only hope is that he's the one who picked up her phone, which she dropped when she left the party. Crossing her fingers, Bella makes the call that will change her life forever. Because Prince Richard, heir to the throne, did pick up her phone, and he, like her, has fallen head over heels in love. Suddenly Bella is catapulted into a world where she needs to use the correct cutlery at all times, she must never have a bad hair day, and her favourite Top Shop outfit is not an option. Can an ordinary girl like her survive the preparations for her very own royal wedding?"
---
---