SCREEN SCENE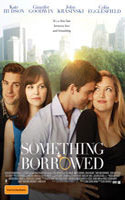 For readers who have taken a book to heart, it can be nerve-racking going to watch that story play out on the big screen. What havoc has the scriptwriter wrought on the familiar storyline, how will the actors portray those characters you've grown to know and love? Something Borrowed, that bestselling debut novel from Emily Giffin, hits the big screens this week. I vividly recall reading it not long after it was released in 2004. I was on a caravanning holiday at the beach, and that first night I didn't stop reading until I finished the whole book. I remember thinking: oh my goodness, the author has actually succeeded in making us want this girl to get with her best friend's fiance. And through the years - and its sequel - Something Borrowed has remained on my list of all-time favourite chick lit books.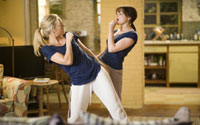 So it was perhaps fitting that on May 1 - as
International Chick Lit Month
kicked off - I was sitting in a cinema, nervously hoping that this fantastic book got its just treatment as a movie. The casting of Ginnifer Goodwin as Rachel, Kate Hudson as her best friend Darcy, Colin Egglesfield as Darcy's fiance and John Krasinski as Rachel's confidante Ethan works well. All play the characters pretty much as I imagined them - Hudson, in particular, nails the self-centred Darcy perfectly. Goodwin you can relate to as the good-girl heroine who has always watched her best friend get everything she wants. While Egglesfield is perhaps a little too much like a chiselled soapie actor, he comes across essentially as a nice guy and you can see why two very different friends have both fallen for him. His wealthy parents (Geoff Pierson and Jill Eikenberry) play a quick but important role in explaining why Dex can't just call off the wedding. And Krasinski, of course, adds most of the comic touches and perhaps earns Ethan more screen time than he got in the book. Marcus (Steve Howey) didn't look at all what I thought he would look like - in fact when he was introduced on screen as "this is Marcus", I nearly said out loud: "oh, no he's not". He's a skirt-chasing lothario in the form of a skaterboi. And there's more funny moments from the desperate Ethan-chasing Claire, played by Ashley Williams. There's even a cameo from Emily Giffin, sitting on a park bench reading one of her books.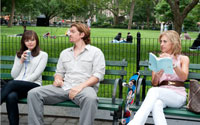 For those who still haven't read the novel, the central story is that play-it-straight lawyer Rachel somehow winds up sleeping with Dex - who is engaged to her best friend since childhood - on the night of her 30th birthday party. But how Darcy ended up with Dex in the first place is not all that it seems. For Rachel it's a tough lesson in not hurting people you love, while finally going after what you want most in life. There are several twists as the big wedding day approaches - one of them I'd even forgotten, which nearly had me tearing up. If you love this book, you'll love this movie. For me, it is the first adaptation of a chick lit novel that has stayed satisfyingly true to the book. How the real critics will react to this unashamedly mushy rom-com from director Luke Greenfield is a waiting game (most of them, like the tinman, probably need to go find themselves a heart). But I suspect the critics that really matter - fans of the Emily Giffin book - will overwhelmingly approve. The ending sets it up perfectly for the sequel. Roll on Something Blue the movie, I say.
Here's the second trailer for the Something Borrowed movie:


Here's the first trailer for the Something Borrowed movie: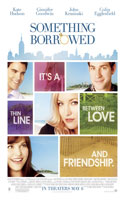 Here's the first official poster for the Something Borrowed movie, which promises to be the most highly anticipated film adaptation for chick lit fans this year. Based on Emily Giffin's bestselling novel, it stars Kate Hudson as Darcy, Ginnifer Goodwin as Rachel, Colin Egglesfield as Dex and John Krasinski as Ethan. With the tag line: "It's a thin line between love and friendship", the movie is about Rachel, who is a talented attorney at a top New York law firm, a generous and loyal friend and, unhappily, still single ... as her engaged best friend Darcy is constantly reminding her. But after one drink too many at her 30th birthday party, perpetual good girl Rachel unexpectedly ends up in bed with the guy she's had a crush on since law school, Dex, who just happens to be Darcy's fiance. When Rachel and Darcy's lifelong friendship collides with true love, it leads to unexpected complications and potentially explosive romantic revelations. Meanwhile, Ethan, who has been Rachel's constant confidante and sometimes conscience, has been harbouring a secret of his own, and Marcus (Steve Howey), an irrepressible womaniser, can't keep his mind out of the gutter or his hands off any girl within reach. Something Borrowed is in US theatres on May 6.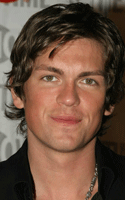 Obviously nothing came out of the reports that Irish actor Colin Farrell was in talks for the role of Marcus because this role of Dex's best friend is instead going to be played by Steve Howey. If you're thinking who?, Howey was in Bride Wars with Kate Hudson and was on the TV show Reba. He joins Ginnifer Goodwin as Rachel, Kate Hudson as Darcy, Colin Egglesfield as Dex and John Krasinski as Ethan. Something Borrowed is due in cinemas in mid 2011.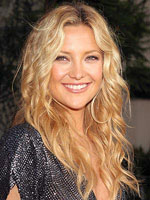 Kate Hudson will step into the role of Darcy for the Something Borrowed movie - rounding out the castings of the love triangle from Emily Giffin's debut novel. Ginnifer Goodwin will play Rachel, Colin Egglesfield is Dex and John Krasinski is Ethan. Giffin reveals the news on Facebook, commenting: "It's official!!!! Kate Hudson will be playing Darcy! ... I know she doesn't physically resemble Darcy, but I think she is PERFECT for this role and will knock this out of the park. She is gorgeous and can play manipulative and self-absorbed, yet charming and vulnerable.... I am thrilled and hope you are too!!" Filming is due to start in April, with the movie expected to open in 2011.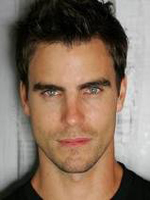 Colin Egglesfield has scored the male lead in the Something Borrowed movie, according to Variety. Egglesfield, who recently starred on the Melrose Place revival show, will play Dex, the man who sleeps with his fiancee's best friend. Egglesfield is best known for his role as Josh Madden in the American daytime soap All My Children.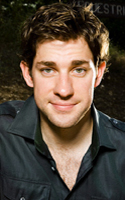 John Krasinski is set to join the Something Borrowed cast as Rachel's male best friend, Ethan. Ethan then goes on to play a bigger role in the second novel, Something Blue, which is expected to be filmed as a sequel. Krasinski is best known for his role on the American version of The Office. He was also in recent movie It's Complicated with Meryl Streep. As the entertainment media began writing about the possible two-picture deal, author Emily Giffin told her fans via Facebook: "Not official yet... but.... hope you're all happy with John Krasinski as Ethan!"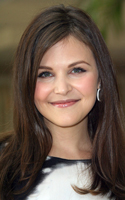 Emily Giffin has announced that Ginnifer Goodwin is to play Rachel in the movie adaptation of her debut novel Something Borrowed. "I am thrilled to announce that GINNIFER GOODWIN will be playing Rachel in SOMETHING BORROWED!!! I think she is a fabulous actress and perfect for the role (so much how I imagined Rachel when writing the book). Hope you all agree!" she wrote on her Facebook page. Goodwin (He's Just Not That Into You) will play the Manhattan attorney who becomes involved with her best friend's fiance following her 30th birthday. Casting still continues for Darcy and Dex.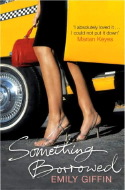 Casting is underway for the film adaptation of Emily Giffin's much-loved debut novel Something Borrowed. Peter Facinelli (Dr Carlisle Cullen from the Twilight series) mentioned in a recent tweet that he was up for the role of Dex. "Just read the book Something Borrowed by @emilygiffin. LOVED it. Give it a read. They're making it into a movie. I met 4 the role of Dex :)" Giffin then replied: "big peter facinelli fan - esp after meeting him in person. think he'd be a great dex... (now get cracking on something blue, peter :)" The author has also been polling readers on Facebook about which actresses should play the lead roles. She's queried having Kate Hudson play Darcy and Ginnifer Goodwin or Isla Fisher as Rachel. IMDB reports the movie has been fast-tracked for a shoot this northern spring-summer and is due in cinemas in 2011.
---
---