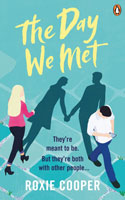 The Day We Met, by Roxie Cooper, asks: what happens when you meet your soulmate after you're with someone else? The synopsis says: "Stephanie and Jamie are meant to be. The problem is they're both with other people...
Stephanie doesnt believe in fate, true love or living happily ever after. She's content enough being engaged to Matt. But then she meets Jamie, who understands her more than anyone else ever has.
Jamie is happily married to his childhood sweetheart Helen and believes in everything Stephanie doesn't. So why does he have such a strong connection with Stephanie?
When Stephanie and Jamie meet one fateful weekend in 2006, it sparks a tumultuous relationship which spans over a decade. The day they meet changes everything..." The Day We Met is out in February 2019.
TEXT