ZOE BARNES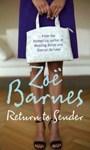 Return to Sender (2009)
The death of her adoptive mother and the double christening of her sisters' children gets Holly Bennett wondering about motherhood for herself. She's been with steady boyfriend Murdo for a few years but isn't sure he's the one. The advertising exec is also taking a break from her real life, living in her family home and working with her best friend at the post office. Holly hires a private investigator, ex-cop Phil, to look for her biological mother. All she knows is she was left on the steps of a hospital 30 years ago. A blanket, a confirmation necklace and an envelope are clues enough to take the pair to the Isle of Man - and perhaps into their own romance. Every so often I read a book where I think the last few pages must have fallen out. This ending certainly leaves you hanging - and if you're hoping to find out all about Holly's origins you will be disappointed. (And since Holly shares the surname of the main character in Barnes' previous novel Special Delivery, I even began wondering if there was a link I missed that would explain all.)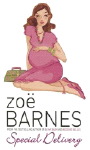 Special Delivery (2007)
Ally Bennett is happily married to social worker Luke, with two young children. But for years she's been living in the shadow of her older sister, Miranda, a former model who is now a successful interior designer and married to wealthy property developer Gavin. But what Ally didn't realise is Miranda is missing something from her perfect life - and all the IVF attempts in the world have failed to give her a much-wanted baby. When Miranda turns to Ally to be a surrogate and carry her husband's baby, Ally isn't sure how to respond. Could she ever hand over a baby to someone else, especially Miranda? With an increasingly absent husband and an overly attentive brother-in-law, the implications of Ally's decision will be felt for much longer than nine months.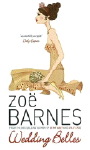 Wedding Belles (2006)
Green Goddess shop assistant Belle Craine is planning her wedding to local journalist Kieran when Australian model Mona - her father's unknown daughter - turns up on the doorstep. In disgrace, her father and mother have to move out of the vicarage and into a new parish in a very undesirable area. Then Kieran starts spending too much time with Mona and Belle starts thinking the worst.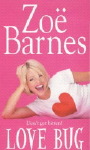 Love Bug (2002)
Laurel Page has swapped cyberspace for managing an old-fashioned dating agency. And she's got an uphill battle ahead of her; because the agency owner refuses to change anything, Laurel can't introduce computers or even an orange filing cabinet. With a bad relationship behind her (boyfriend Jason slept with best friend Steph), Lauren has sworn off dating herself. But she soon finds herself attracted to client Gabriel. But then Steph turns up on the agency's books and gets set up with Gabriel.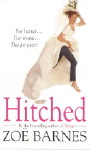 Hitched (1998)
Gemma and Rory want a small wedding but when his mother hears of their engagement she begins hijacking the preparations. The couple decide that the only way to control their big day is to pay for it themselves. So Gemma swaps to a higher paying job and Rory puts in more hours as PA to the very attractive Lisa. But as the wedding approaches, they find themselves drifting apart.

---
Also by author:


Be My Baby



Split Ends


Just Married



Ex Appeal



Bouncing Back



Hot Property



Bumps

---