SARAH PEKKANEN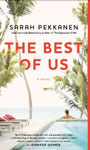 The Best of Us (2013)
On an all-expense paid trip of a lifetime to Jamaica, college friends Tina, Allie, Savannah and Dwight, along with their spouses, settle in for a week of luxury, relaxation and escape courtesy of Dwight and his wife, Pauline. No expense has been spared by Pauline to give her husband a grand birthday but when unforeseen circumstances, deep secrets and a potential hurricane muddle the plans, the women begin to evaluate exactly what the idea of paradise means to them. Sarah Pekkanen once again weaves a complex tale of friendships, marriages and expectations with distinct characters grappling with very relatable issues. Kudos to her for another superb outing. (LEK)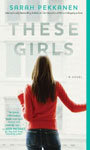 These Girls (2012)
Cate is the new features editor at Gloss magazine, and wants to ensure her first issue goes off without a hitch. She hires star writer Trey to do the cover story but is reluctant to get personally close to him as her flatmate Renee has always had a thing for him. Renee is busy vying for the beauty editor's position at the magazine. But the Kansas-raised girl doesn't fit the mould of a thin magazine staffer. After someone makes a few snide comments about her weight, she turns to diet pills for a quick fix. Meanwhile Trey's sister, Abby, a nanny, comes to stay in their New York apartment. She is shattered after having to leave her beloved charge, Annabelle, in Washington DC. Will she open up to the girls about what made her leave? This book explores female friendship - but in women who have not known each other that long. While not as strong as her first two books, it is still an enjoyable read that many women will relate to. Just not sure about the ending.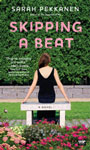 Skipping a Beat (2011)
Julia and Michael were high school sweethearts from a small town in West Virginia. Immediately after high school, they moved east and scraped by as they worked their way through college. Fast forward a few years and Michael is the owner of a company valued at $70 million. Their lives are now filled with missed anniversaries and broken promises. Then one fateful day Michael collapses from cardiac arrest at a board meeting. In the four minutes and eight seconds it takes to jump start his heart, he becomes a changed man with different priorities. Julia has to decide if the damage done to their marriage is too great to ever forgive. Even when I wasn't reading this book, I found myself constantly thinking about the characters. The novel explores marriage and forgiveness beautifully. The ending was so shocking, yet completely satisfying. This novel has moved to the top of my favourites list. (AO)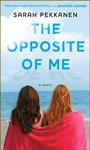 The Opposite of Me (2010)
Manhattan advertising exec Lindsay is on track for a promotion and just needs to nail her client presentation. But when things go from bad to worse, the over-achieving workaholic instead finds herself without a job. So she heads home, back to her parents' house and into her twin sister Alex's domain. Lindsay has always felt in the shadow of her twin - while Lindsay was the smart sister, Alex was the pretty, popular one. And now it seems Alex has become increasingly chummy with Bradley, the one guy in the world who has always preferred her to Alex. But then fate comes looking to mess with Alex's perfect life and Lindsay stumbles across a family secret. This is an amazingly impressive debut, with twists and turns to keep you enthralled and a story about sibling rivalry that is masterfully steered out of cliche territory.

---
---