PENNY SMITH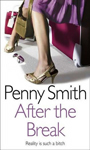 After the Break (2009)
Katie Fisher still hasn't settled into any permanent work after being dumped as host of a morning TV show. So she is enticed by a big pay packet to head to Norway to take part in reality TV show Celebrity X-Treme, a sort of Big Brother/Survivor in the snow. As Katie's clumsiness scores her lots of air time, one of the producers, Siobhan, has reason to set her up with another contestant Paul. Meanwhile Keera, Katie's replacement on Hello Britain!, is trying to score her own series, weather girl Dee is getting married and Katie's father has decided he's had enough at home. This is an improvement on the atrocious first book, but you still need to wade through Katie's bad puns and word plays.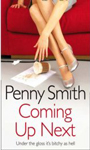 Coming Up Next (2008)
Katie Fisher, co-host of breakfast show Hello Britain!, is on holiday when she finds out she's been replaced by a younger model. Keera Keethley is an ambitious, publicity-hungry woman on the rise despite her lack of interviewing nous. One of the reasons Katie loses her job is viewer feedback that she has an "unappealing" and "unfunny" sense of humour. Their opinion is certainly spot on if the dreadfully woeful puns throughout this book are anything to go by. Katie takes off to her parents' home in Yorkshire, where she hooks up with her brother's friend Bob and is papped in various states of drunkenness. With an awful character you would step right over if you saw her lying in a pool of her own vomit, let's just hope Smith, a regular British TV presenter, has nothing coming up next on the fiction front.

---
Also by author:


Summer Holiday

---