LISA HEIDKE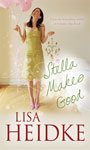 Stella Makes Good (2012)
Stella, Carly and Jesse are three friends who finally catch up for their new year's drinks at the end of January. Librarian Stella is moving on after ex-husband Terry has moved in with a younger woman. She is on good terms with him but their teenagers and his mother are not happy about his new life. Carly thinks her husband Brett may be having an affair and starts flirting with a group of doctors, including a good-looking divorced school dad called Mike who Stella's got her eye on. Meanwhile Jesse has to leave early because her obnoxious husband has let her down again. As Carly and Stella head off to a party, the night takes an unexpected turn with ramifications for them all. This novel offers an amusing and often touching look into what goes on behind suburban doors, highlighting a range of issues affecting women - from divorce and empty nest syndrome, to anxiety disorders and alcohol problems. You may never look at your neighbours the same way again!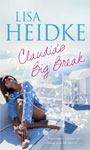 Claudia's Big Break (2011)
Claudia has just scored the holiday break she desperately needs. Marcus - her boss and married lover - is sending her on a trip to Greece. All she has to do is deliver an envelope to one of his business contacts, Con, in Athens, and then she is free to soak up the sun on Santorini island. With Marcus forking out for two weeks accommodation - his guilty payoff over the end of their relationship - Claudia invites along her two best friends, Tara and Sophie. But Con seems to be a slippery character - and her piece-of-cake business transaction never seems to eventuate. Heading off to Santorini, she meets up again with an Australian traveller called Jack. But surely Claudia didn't go all the way to the Greek isles to have a fling with someone from home? Meanwhile Tara, a magazine writer, is hoping the trip will provide all the inspiration she needs for her novel, while Sophie is wondering about the state of her marriage and whether she's cut out to be a mother to her young son. With its glorious setting and enticing plot about women on the brink of 40 weighing up their lives, I had high hopes for this third novel from Heidke. But with characters I just didn't relate to and the oh-so predictable mystery subplot, it was all too tempting to take a break from reading it.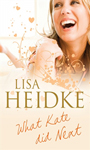 What Kate Did Next (2010)
Married mother-of-two Kate is realising that somewhere along the way she has put her dreams of being an acclaimed photographer on hold. So when a friend rings with a temporary job offer on a food magazine, Kate decides to plunge back into the working world. As she spends her days dealing with the temperamental creative director Graeme Grafton - a former Cleo Bachelor of the Year, she also has to contend with her 13-year-old daughter Lexi going through a rebellious stage, her sister Robyn ringing up daily claiming she's in labour and her estranged father re-entering her life with a bang. Meanwhile Kate is harbouring fantasies about her son's well-fit soccer coach. Heidke's witty sophomore effort proves she's got the depiction of the domestic battleground down to a fine art. Will be very interested to see what she does next.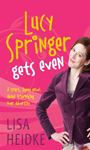 Lucy Springer Gets Even (2009)
When Lucy Springer's husband Max tells her he's had enough, she thinks he's talking about his Thai takeaway. But then he walks out, with his surfboard under his arm, and the next thing she hears from him is a postcard from Bali. And it soon becomes apparent that he has not taken off alone. Nor could Max have picked a worse time to walk out, with their house resembling a dustbowl during major renovations and Lucy, a former soap actress, trying to get a role - any role - with the help of her overly pushy agent Gloria. Lucy decides to take matters into her own hands, and follows Max to Bali with their two children. Join Lucy on her two-month journey from disbelief and despair - to so much more.

---
---