HOLLY DENHAM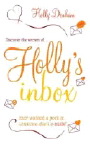 Holly's Inbox (2007)
Holly Denham begins work as a receptionist at a London investment bank, and since she lied about her front-of-house experience, she's struggling just a bit. But luckily, the other receptionist Trish takes her under her wing and an old school 'friend' Jennie who works upstairs extends a welcoming arm. Told in email format, Holly navigates her new job and a new romance - with one of the company's vice presidents, James. Her work day is punctuated with daily emails to and from her best friends, Jason and Aisha, and her family, including her brother Charlie who's opening a nightclub, her parents who have moved to Spain and her granny who loves signing her up for online groups. But some secrets from Holly's past are about to be revealed. Be warned - this book based on the website www.hollysinbox.com is very addictive. Just don't let your boss catch you reading it.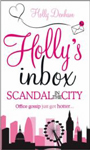 Holly's Inbox: Scandal in the City (2008)
This equally addictive sequel to Holly's Inbox (again told through email messages) sees receptionist Holly get promoted to front-of-house manager - and she'll keep the post if she can get her team to improve its results within a month. Meanwhile, her boyfriend Toby is being a bit evasive, another colleague William is flirting via email, and when she extends the hand of friendship to catering manager Tanya, she instead creates an enemy. With more than just her career on the line, Holly again relies on the advice of her email pals, including gay best friend Jason, scatty Aisha and reliable colleague Trisha.
---
---