CASSIE HAMER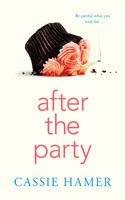 After the Party (2019)
Because she slept in, Lisa's running behind on preparations for her daughter's fifth birthday party. With nothing going to plan and her sister, Jamie, also a no-show, it all looks like being a disaster. But even though the day is saved by a nanny in a Wonder Woman costume and a school mum bearing a bottle of moscato and a cake, things get even stranger after the party.
No one comes to pick up one of the little girls, and instead Ellie has a note from her mother Missy, pleading with Lisa to look after her for a while. While Lisa tries to track down this woman she has never met, Jamie has a big decision to make concerning her boyfriend and her PR job.
This story was more light-hearted than I was expecting given the storyline of an abandoned child. It's a heart-warming and often funny read about the depths of a mother's love, even for a child who is not your own. The only thing I didn't like: the explanation behind Missy's disappearance seemed a bit flimsy on the credibility front. Overall, a very promising debut.